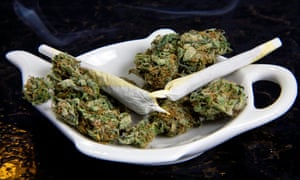 The ridiculously harsh sentence over such a small quantity of marijuana sparked vocal concern nationwide and on social media.
Prosecutors in Oregon have agreed to drop federal charges against a Native American teenager who faced up to a year in prison for possession of about one gram of marijuana, after the state's US senators and a congressman sent a letter of concern.
Devontre Thomas, 19, entered into a pre-trial diversion agreement with the government, according to a document filed Thursday in federal court. Under the terms of the agreement, the government will dismiss the pending charge if Thomas obeys all laws and remains at work or in school for the next 60 days.
"It's about time," said Ruben Iñiguez, the federal public defender representing Thomas, of the agreement.
"I hope sincerely that other minors or even adults in our state – where marijuana is both recreationally and medically legal – don't have to face this sort of persecution by the federal government for such a minor quantity of what's now legal medicine."
On Wednesday, Senators Ron Wyden and Jeff Merkley and Representative Earl Blumenauer, all of Oregon, released a letter to US Attorney Billy Williams that expressed concern with the prosecutor's priorities on drug prosecutions:
"With heroin, methamphetamines, and opioids causing widespread harm to people across the state, your office has substantial drug enforcement priorities, other than the prosecution of simple marijuana possession crimes … Your office retains prosecutorial discretion in expending scarce legal resources in pursuit of those priorities that will make the biggest difference to Oregonians."
The representatives also demanded that Williams produce a list of all marijuana possession prosecutions pursued by his office since 2014.
They have not yet supplied that list.
Source: Charges dropped for Native American teen facing prison over gram of weed | Society | The Guardian