I officially claim "dibs" on "Legs on a Plane" as a movie idea.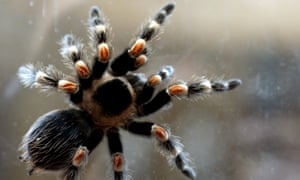 The tarantulas were likely Phormictopus cancerides, a species common to the Dominican Republic, Montreal-based entomologist Étienne Normandin told Radio-Canada. Ranging in length between 10cm and 20cm (4″-8″), the spider has fangs that can grow to 2cm (1″) or more. Normandin described it as an aggressive species, but one whose venom is not very powerful.
Pointing to a lucrative market for live tarantulas, Normandin speculated the spiders may have been hidden in a passenger's carry-on. "It's a species that is often sold," he said. Adult males of the species are coveted for the blue sheen on their carapace, which fades to a brass colour over time.
Air Transat described it as an "extraordinary and isolated event". A spokesperson for the airline added in an email, "Passengers who have seen the spiders (we have no confirmation of the species) were certainly surprised, but according to our flight report, they reacted calmly."
Who wouldn't want to hear an 8-legged version of this?

Source: Aggressive spiders cause panic on Canada-bound plane | World news | The Guardian
Just remember they're more afraid of you…
: